The worlds first fully articulating and commercially available bionic hand.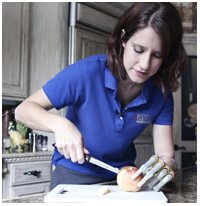 Touch Bionics is a leading developer of advanced upper-limb prosthetics (ULP).
One of the two products now commercially available from the company, the i-LIMB Hand, is a first-to-market prosthetic device with five individually powered digits. This replacement hand looks and acts like a real human hand and represents a generational advance in bionics and patient care.
The Touch Bionics i-LIMB Hand was developed using leading-edge mechanical engineering techniques and is manufactured using high-strength plastics. The result is a next-generation prosthetic device that is lightweight, robust and highly appealing to both patients and healthcare professionals.
The i-LIMB Hand is controlled by a unique, highly intuitive control system that uses a traditional two-input myoelectric (muscle signal) to open and close the hand's life-like fingers. Myoelectric controls utilize the electrical signal generated by the muscles in the remaining portion of the patient's limb. This signal is picked up by electrodes that sit on the surface of the skin.
Existing users of basic myoelectric prosthetic hands are able to quickly adapt to the system and can master the device's new functionality within minutes. For new patients, the i-LIMB Hand offers a prosthetic solution that has never before been available.
Advanced Design: The modular construction of the i-LIMB Hand means that each individually powered finger can be quickly removed by simply removing one screw. This means that a prosthetist can easily swap out fingers that require servicing and patients can return to their everyday lives after a short clinic visit. Traditional devices would have to be returned to the manufacturer, often leaving the patient without a hand for many weeks.